Stuffed Peppers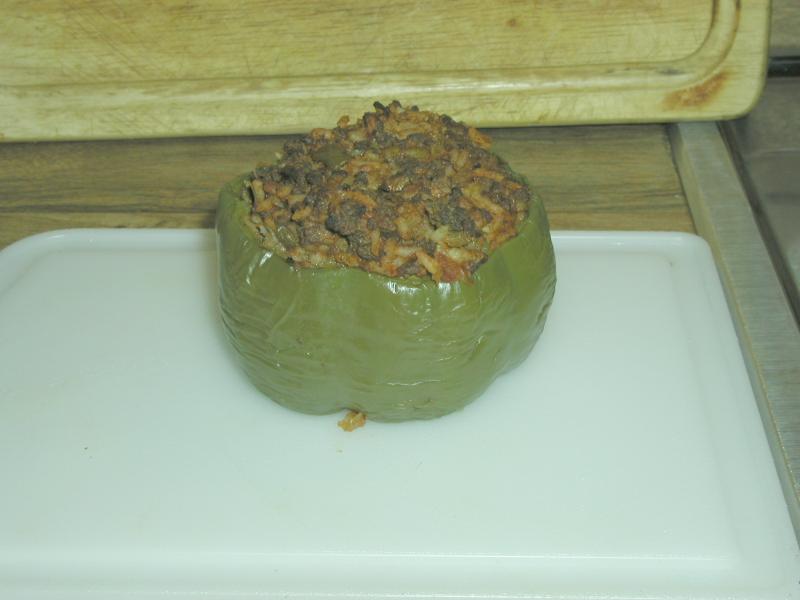 Ingredients:
1 lb ground beef
½ medium onion, chopped
½ cup white rice
1 cup water
½ cup salsa (spiced to your liking)
1 tsp seasoned salt
1 tsp Worcestershire sauce (more or less)
½ cup cheese, cheddar, taco or other tasty cheese.
4 medium to large green peppers
Boil the 1 cup of water and add rice. Cook 20 minutes or until done. In the mean time brown the ground beef, adding chopped onion, Worcestershire sauce, seasoned salt to the beef. In a large pot bring a couple of quarts of water to a boil, enough to cover the 4 peppers. Slice the top of the peppers off and clean out the seeds and other material from the inside. When the rice has cooked for 10 minutes or so, add the peppers to the boiling water. Boil for 5-7 minutes.
Preheat oven to 350 degrees.
Mix the cheese, rice and salsa into the ground beef mixture a couple of minutes before stuffing each of the peppers with the mixture. Place the peppers, open side up with the mixture firmly packed inside into a baking dish or cookie sheet. Be careful fishing the peppers from the water. They have a tendency to split. Don't try to lift them from the water full, but tip them over and let the water run out as you remove them. Bake for about 25 minutes or until the top of the mixture is slightly browned or dried out.
Serve and enjoy.